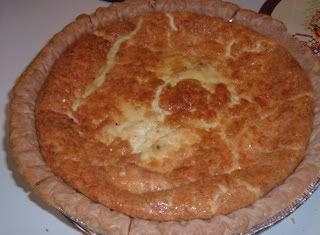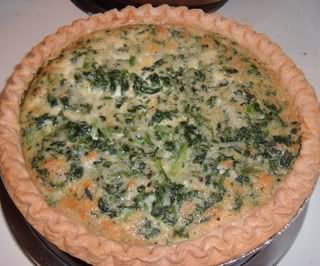 Spinach n mozzarella Quiche
Mom's Recipe for Quiche
1 C. Swiss Cheese you may also substitute or combine with another cheese
Choose an ingredient to add – spinach, bacon, ham, etc
Prepare pie crust by putting holes in the bottom with a fork. Add to 350 degree oven for 5 minutes or until lightly golden.
While the crust is in the oven, shred swiss cheese.
In a separate bowl, combine heavy cream, swiss cheese, nutmeg, eggs, salt and pepper. Stir together until fully combined. Add extra items like meat, seafood and/or vegetables. Cut the butter in pats and place on top of the Quiche. Bake at 350 30-35mins or until the center is fully cooked.
Examples of combination: Ham and Swiss, Chicken n mexican cheese with salsa, ham or turkey ham with challots and asparagus and Grueyer cheese, spinach with swiss or feta, three cheese Quiche, shrimp with grueyer, mushrooms with varied cheese, and any other ingrediant that you can concoct.
NOW, Get to it! And be sure to make many variations, because they freeze well. Re-heat at 350 degrees until heated thoroughly.